Incus was created just over two months ago by Aleksa Sarai, forking the LXD project shortly after Canonical took it over and kicked out all community maintainers from it.
It aims at providing the same great system container and virtual machine management, clustering, … as LXD, but in a more community driven and distribution-agnostic way.
Over those two months, the focus has been on taking ownership of the code base, doing a lot of housekeeping work, effectively modernizing the code base, removing a number of less used or Ubuntu-specific features and developing tooling that will allow the project to keep up with LXD while also allowing it to grow its own features separate of LXD.
The result is the release of Incus 0.1!

From a technical standpoint, it's very similar to LXD 5.18 and supports migrating all data from LXD 4.0 or newer (up till 5.18). From a community standpoint, it's the beginning of a new great project, run by the original LXD maintainers along with Aleksa and that has already received a number of contributions from various community members!
You can easily try Incus 0.1 for yourself with our online demo.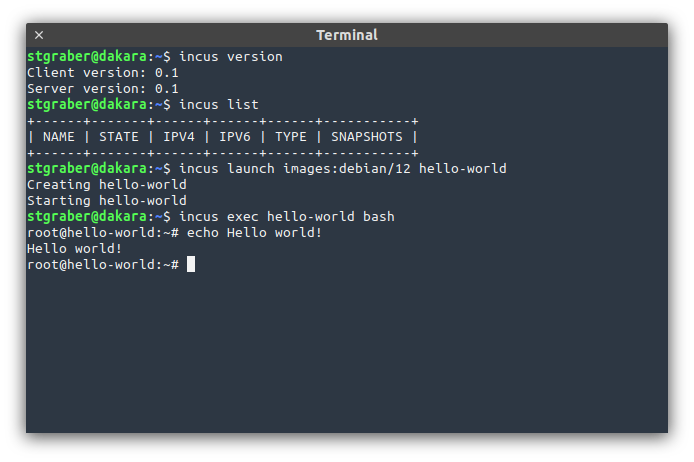 Separately from the Incus project, I'm also personally providing packages for Incus to Debian and Ubuntu users through my company, Zabbly. And I'm naturally able to provide paid support, development and migration services to anyone who would like that!
My open source work can also be sponsored directly through Github Sponsors.
Now to go back to fixing bugs and processing all the great user feedback so far!